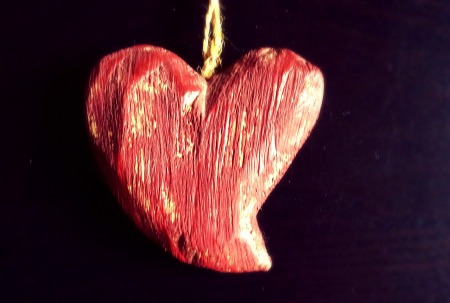 Why I Thanked My Ex For Breaking My Heart… and the Spiritual Way I Healed.
Earlier this year my relationship of 6 years dissolved. It wasn't a messy breakup, nor did either one of us do anything wrong. After 6 years of being together, most couples would say "I just know you're the one for me", but instead we mutually voiced to each other "I kinda just know you're not".
So apart we went. At first it was easy, on both of us.
Lots of love and smiles and laughs and support.
But then he moved on, into the arms of another girl, much sooner than I expected. That was when my heart started cracking and the hurt, sadness, aloneness, abandonment and fear started seeping out. It felt as if these scratches would be permanent scars on this organ I couldn't even see. It was tough to move forward.
In my line of work, I help women, just like me, through the exact situation I was going through. I help them release all the negative, heart wrenching energy that often lays heavily on the heart and physical body. I help bring clarity and peace to the mind. I help them trust that love, joy and fulfillment are still present within them. I can easily and naturally do these things for my clients, but for myself, it was a much slower process than just a few 'hour-sessions' of work.
I cried.
I prayed.
I 'what if'ed.
I relied on my angel cards for guidance.
I went inward in meditation.
I received reiki + massage.
I cried some more.
I reached out to friends.
I listened.
I analyzed. and over analyzed.
I facebook-sabotaged myself.
I cried even more.
I deep breathed.
I let go + surrendered.
I danced + sang my freakin' heart out in my kitchen.
I ended up crying on that same kitchen floor… a mess.
I assured myself.
I slept.
I hiked mountains.
I lit candles and took baths.
I ate chocolate.
I flew back to my childhood home, to my mom and dad.
I pulled even more angel cards.
I wrote in my journal.
I forgave, myself… and him… and every other ex before him.
I gave myself permission to feel every emotion that came.
Then I thanked him.
Eventually….. the crying, the hurting, the aloneness started to fade. After all my spiritual inner work, the light started to return and I embraced it. The smiles came more frequently and tears came from laughing. My healing journey came to completion and my heart felt full and whole once again.
Moving on is a peculiar thing… here's how it went down:
In one moment, I would truly know I am on the right path, have made the right decisions and have full faith in all things beautiful. I trust with soulful certainty that where I am is exactly where I am meant to be and even have that thrill of excitement of "what's next" running through me.
Then in a flash, when I've seen that old photo of us that was left behind, there goes my heart and mind down that spiral of negativity. With heaving sobs and feeling devastatingly empty, I would think how shitty and unfair life is right now. I'm sure you know exactly what I'm talking about if you've ever nursed a broken heart.
It's that stuckness… of not knowing what to do.
It's that "Why am I STILL feeling this way!"
It's that assuming because it's been ___ amount of weeks or months, I should be feeling happier, more hopeful, more whole.
It's that "Why haven't I found someone else yet?"
It's all those mind-looping negative bull-shits that creep in and set up camp for a moment, a night, or week, a month or two. It's draining. It's exhausting.
And quite frankly, I don't deserve to feel like this. I am worthy of so much more than this haunting feeling of not being good enough.
I am worthy and deserving of feeling at Peace.
and Loved.
Enough.
Fulfilled.
Happy.
Desired.
Inspired.
Free.
and Spiritually connected to the person I love.
And you know what? You are too.
You. Are. Too.
So how did I come to feel whole again?
1. I asked for what I wanted — the feelings I yearned to feel.
I set my intention by defining my core desired feelings. Both for my general life, and my relationship to come. Look up Danielle Laporte. This is her craft + inspiration.
2. I was thankful for these feelings.
I wrote every single detail in my journal as it fulfilled those core desired feelings. At the end of each day, I listed all the ways I felt loved… and how I experienced joy.. and when I was inspired. I simply proved to myself that I was already experiencing what I desired – and just because one moment felt empty, it didn't mean fulfillment wasn't also present in my day as well.
3. I let my heart speak to me.
I asked myself every day "What do you need to be assured of right now?"
The answer was often that "I am enough. I am loved. I belong."
I asked myself "What do I need to hear from him right now?"
The answer was often "You were enough. You made a difference in my life. You are special. You are loved."
It's always about your feelings, not about actions.
For example:
It's not about "needing to move forward with someone else"… that usually translates into simply needing to "feel loved".
You don't need to "hear I'm sorry"…. You need to feel "respected and valued."
I asked myself many times "What is 'this' really about for me?" "How does his words or actions, or lack of words or actions, really make me feel?"
It's never, ever about them… It's about me (and you). Once light is shed on what assurance is needed and what feelings are being felt, then the true healing work starts to unfold. Trust me on this. Figure out your truth.
4. I affirmed what my heart needed to hear.
Out came my mala beads and 108 times I would say "I am loved. I am enough…." over and over.
Out came the post it notes, with little reminders of my worth and value stuck all over the house.
I wrote on mirrors and windows with dry erase markers. "Yes!! You are more than enough, Linds!"
5. I asked others for what I needed… from them.
"I need you to simply listen right now… I don't need advice or for you to assure me. I just need to be heard… I need to vent. I'm so freaking pissed off right now because….."
or "I need your words of wisdom and love… It's one of those shitty days for me. My heart hurts. A lot…"
or "I need you to bring me chocolate… and cake… and rosé wine… make that two… of each. And pick up what you want for yourself and join me."
When reaching out to others, be clear of what you expect of them. Trust me, it's easier this way. Because when you just want to vent and be heard, hearing "you'll be okay" can be surprisingly frustrating in the moment. Or if there is a shortage of cake. That can also be devastating…. and avoided if clear communication came first.
It comes down to 3 simple things: To be heard. To be assured. Or to be guided.
Pick which one you need from others and let them know exactly.
6. I waited.
Yup. I simply waited. Gave myself all the time I needed to cry and allow trust and peace to find their way back to my heart. That kitchen floor incident…. just waited it out. The heaving sobs eventually ceased and I went back to cooking my peanut satay stir fry. Then promptly tossed it out because it was quite burnt tasting from my negligence while I was on the floor. I didn't judge, I actually laughed. Then ate leftover cake.
7. I embraced my spirituality.
This is what got me through each day. From angel cards to meditation, to journal writing, to asking my guides for… well… guidance, I embraced all the soulful things that fulfill me.
My favourites that helped me the most:
– Angel cards – John Holland Heart Oracle and Doreen Virtue Goddess Guidance
– Reading: 'You Can Heal Your Life' and 'The Untethered Soul'
– 'The Work' of Byron Katie
– EFT – Emotional Freedom Technique
– Reiki self-healing and energy work
– Prayers to my guides and lost loved ones
– Groove Method and Bellyfit for dance floor movement
– Meditation – focusing on light shining from the heart
– Letting go of expectations and attachment
– Forgiveness. Lots of forgiveness.
– Thankfulness and gratitude
– Yin Yoga by candlelight in my living room
– Snuggling with my dog
– Singing along to Snatam Kaur and Deva Premal
– Dancing around my house. Moving freely.
and surprisingly….
– Silently THANKING my ex and his new girlfriend for triggering all this uncomfortableness to arise because it meant I still had healing to do.
I can now move into my next relationship already feeling fulfilled, enough and loved because of the inner work I was forced to do. It means I gave myself the most special gift I was yearning for without realizing it: my own time, love and effort. I simply needed to be loved, by me…. not him.
So if he didn't move on so quickly, and if it didn't hurt so much, and if I didn't take the time to figure out exactly why I was hurting, I never would have fully healed. I love this quote by Marianne Williamson in her book 'A Return to Love'
"The purpose of a relationship is not for two incomplete people to become one but for two complete people to join together for the greater glory of God."
I would have stumbled into the next relationship with all these hidden insecurities. I would be thinking I can only experience love, enoughness, and joy while being with someone else. And that's bullshit. There I said it. (sorry for the profanity mom, I know you cringe when I swear).
No one else in this world determines how much I am loved, or how much joy or abundance or fulfillment that is within me. Not my 'ex', and not the 'next'.
It took me feeling cracked and broken and loveless to figure out that I am enough. On my own. Just as I am. Because if I am enough on my own, I'm going to be more than enough with someone else. That thought excites me…. and entices me to keep moving forward, to keep up my spiritual self-love practices even when I'm feeling great and to keep affirming to myself that I am worthy and deserving of love, especially from myself.
I've never said this out loud to him… so E, thank you, for moving on so quickly, for triggering my heartbreak, and for helping me heal — all without you even realizing it. I sincerely appreciate you being a teacher on my journey through life. Thank you. Again.
And with this gratitude, comes my declaration to finally free you… and us:
I love you. I thank you. I release you.
And my declaration to myself:
I love you. I need you. I embrace you.
So here's to love and moving on…. for me, and for you who is reading this… we are all worthy of feeling whole and complete on our own. Just as we are. We are enough.
I would love to hear what spiritual practices helped you move on from a hear breaking experience…