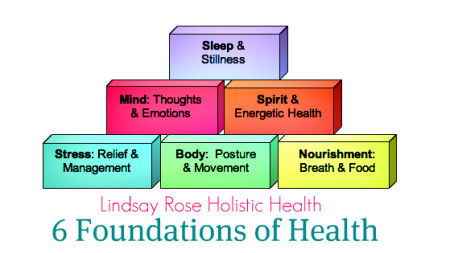 A holistic health approach means addressing the whole person, not just the body. The Body, Mind and Spirit (or Energy) are all considered and improved in order to be balanced and have optimal health and well-being.
There are 6 key foundations of your health that need to be assessed and considered:
Stress Relief & Management
Body – Posture, Movement & Activity
Nourishment – Water, Breathing, Food, Eliminate Toxins
Sleep & Stillness
Mind – Positive Thoughts & Beliefs, Expression of Emotions
Spiritual & Energetic Health
If all 6 of these pillars are in balance, you have built a strong foundation of preventative health. When in balance, most people feel they are living a higher quality of life. This affects other people in your life as well as your relationships, career, finances
They provide the fuel and structure for the body to function.
They ensure that the internal environment of the body has the nutrients and ingredients to sustain health and to replenish, heal, rejuvenate, repair and revitalize. This foundation addresses the emotional, mindful and spiritual aspects of life that can affect your health.
With this in mind, you can see now why just going to one modality such as massage, chiropractic or the doctor doesn't make you feel completely healthy. You might feel good for a couple weeks, but then you start feeling unbalanced again. Re-aligning only the skeletal or muscular systems is not enough. You are a 'whole', body, mind and spirit and all have to be considered when a health condition, pain or tension are present. More than likely there are other aspects of your health that need balancing or fine-tuning, or there is something within your day-to-day life that is contributing to the condition (like posture or what you are putting into your body). When all aspects are assessed and moved into optimal health, it is then you will feel fabulous, vibrant and full of life!
Even though this process can look daunting, long and difficult, Lindsay Rose helps you easily assess what aspects need to be addressed first and gives you easy and simple steps to succeed. It's not about criticizing what you are doing wrong, but identifying where simple changes can dramatically improve your health and well-being. Often through the process, you will discover something new and have one of those 'a ha!' moments of clarity, and this is exactly what you need to keep moving forward and easily make changes in your life. It might even change the direction of your life towards something even more beautiful and brilliant.
This is about YOU. Lindsay Rose understands that not everyone fits into the same box, not every method works for everybody. You are uniquely you, so together figure out what works best for you. Lindsay Rose believes in the principle of "take what is valuable to you, and leave the rest behind", which allows you to not get too overwhelmed and overloaded with information. This keeps the process simple and easy for you during this time of change.
Example of how Holistic Lifestyle Coaching to help you:
Condition: Sore neck, back & shoulders caused by tension.
Normally I would address and relieve this condition through Shiatsu Therapy, a Japanese form of massage. In conjunction to Shiatsu and hands-on relief, adding Holistic Lifestyle Coaching can help prevent this from occurring and prolong the amount of time you need between Shiatsu Sessions. It can be about finding the source or root cause and addressing it, not just applying a 'band aid' solution every time.
➙ We would explore what could be causing the tension in the first place. If it is stress related, then we would explore this and figure out what works for you personally to minimize stress. You will be given many resources to do so.
➙ Next we might look at your posture and alignment. Is the way you are sleeping or sitting at work or on the couch pulling your body back out of alignment?
➙ Maybe there is an aspect of your mind or thoughts that are contributing to this. If the majority of the tension is around the shoulders we might examine if you are "carrying the weight of the world (your family or responsibilities) on your shoulders".  Do you hold in your emotions and could they be getting 'stuck' in those areas of your body. If so, we figure out together the simplest ways that work for you to address this.
Condition: Fatigue, feeling 'sluggish', lack of clarity etc…
I would address this condition hands on using Reiki & Intuitive Energy Healing, to clear away any negative energy that might be locked in and causing stagnation.
Adding Holistic Lifestyle Coaching, we would:
➙ Explore how your body is being fueled. Looking at the Body Nourishment pillar of health addressing your water intake, how your breath can nourish your body & mind, the amount of toxins clogging up your system via food & environment, and explore what foods would be beneficial to giving you more energy and a clearer mind.
➙ Consider the quality of your sleep, as this could be a very easy quick fix.
➙ Address any stress that might be zapping your energy on a continual basis and find out the easiest way for YOU to de-stress and live life with ease.