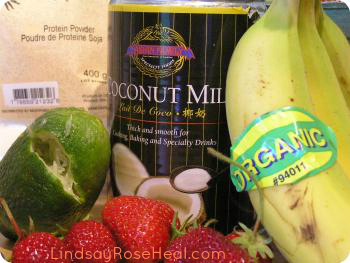 Want a very healthy start to your day?
Try my ultimate smoothie:
Banana – 1 whole
Strawberries – 2/3 c
Blueberries – 2/3 c
Cranberries – 2/3 c
Lime (few squeezes from a fresh one)
Ground flax seeds – 1 tbsp
Ground hemp seeds – 1 tbsp
Protein Powder – 1 tbsp
Cinnamon – 1/2 to 1 tsp
Fresh grated ginger 1/2 tsp to 1 tsp
Flax oil – 1 tbsp (or oilve oil)
Coconut milk – 1/2 c
Water – approx 1 1/2 c (but add more or less for desired consistency)
Mineral drops – (as per directions) (available at health food stores)
Put all ingredients into the blender or food processor and blend until smooth. There might be some bits and pieces of the seeds left in it… but I like them :)
Feel free to substitute other fruits into the mix!
What other goodies do you like to include in your uber-healthy smoothies?