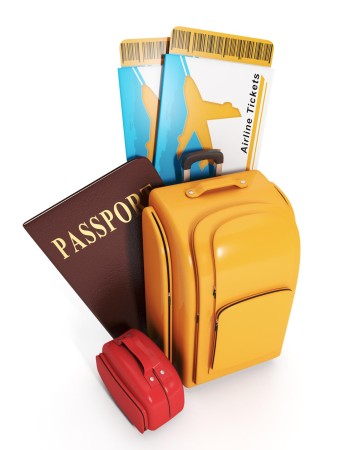 Over the holidays I have been constantly on the go. Between airplanes, cars and public transit I have been surrounded by people who are coughing, wheezing, sneezing and just walking around looking like energy-drained zombies.
In times of stress, our immune systems deplete. I'm not even talking about the 'negative stress' either. Don't forget about the 'looking forward to going on our vacation' stress, the packing, tying up loose ends, anticipation of all the good to come…… Most changes to our daily grind is a form of stress, either positive or negative.
It is important to start preparing for travel a few days or even a week in advance. If you build your immune system up ahead of time, your chances of getting sick dramatically decrease. Think about it: do you really want to be sick when you have the opportunity to be lounging on a beach or spending quality time with family and friends? I didn't think so!
Here are my tips & tricks to stay healthy and happy when you travel:
Days before:
Drink Echinacea tea
Load up on Water – especially the day before traveling. Aim for 10 cups a day
Limit the amount of sugar. (don't forget to check your sauces, breads and dressings for sugar!)
Eat lots of veggies: Green stuff like kale, chard, broccoli, zucchini
Boost your Vitamin C by eating more fruits. Skip the juices, it's high in sugar.
Get plenty of sleep. Rest during the day and take it easy.
Say Affirmations to lower stress: "All will be well." "I trust in the process of life" "I flow through life with ease"
For the Trip:
Pack your own snacks that travel well: Apples, Zucchini, Carrot & Celery Sticks, Trail Mix/Nuts & Seeds
Continue to drink water. Use a to-go bottle that you can sip on slowly throughout the day
Skip carbonated drinks like pop, it will bloat you and increase gas when on a plane.
Skip alcohol & coffee: they are dehydrating
Have a wholesome breakfast like Amaranth & Oatmeal or Eggs. Skip the cold cereals that are loaded with sugar.
Drink a 'Green Smoothie' before you leave, that will be packed with nutrients & minerals.
Have something soul-nourishing to read
Pack your ipod with fun tunes, or burn a new cd for a car trip
Take a break, get up and walk around. Allow circulation to the legs every couple hours
Have patience. Remember that everyone is in the same boat as you, with their own challenges. Be understanding of others. They aren't perfect and neither are you.
If you have anxiety when you travel:
Carry soothing gemstones like Rose Quartz or Clear Quartz, Amethyst and Hematite for grounding
Use affirmations such as: "I am Safe & Protected" "All is well" "I am grounded and centered"
Consider hypnotherapy beforehand
Bounce up & down quickly to shake off negative energy and restore positive energy. Here's my 30 sec video.
Do meditations every day leading up to the trip & the morning of
Have a recorded meditation on your ipod or mp3 player to listen to when needed
Trust in the process of life, that all will be well, because it always is in the end
Bon Voyage! Be safe. Be Healthy. Be Happy!