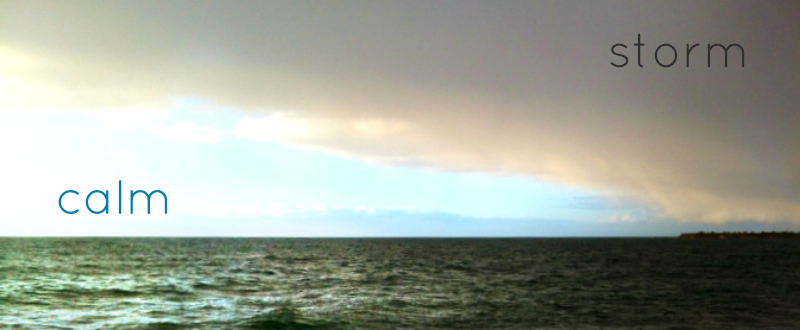 As I sit here writing this note, I am surrounded by 5 kids yelling their affections to their uncle who is chasing them around the house, an espresso machine squealing away, dogs barking and adults attempting to talk over all the other noise… It's chaotic to say the least. I sit here at the table, in the middle of what appears to be a storm of activity, noise and energetic commotion.
When you are an energetically sensitive soul like myself, you may easily become completely overwhelmed by this much stimulus happening. For many years I would reach my breaking point when in this position. This is the point that found me frustrated, flustered and sharp tongued with snappy comments I often regretted. Not liking this person I would turn into when in a chaotic environment, I have finally found a few key resources that help me sit here with a smile on my face and joy in my heart amongst flurry of activity.
1. Breathe
As cliche as this sounds there is much benefit to deep breathing. It lowers the blood pressure and heart rate and can help you become centered in the moment. When your focus shifts to this simple movement in your body, the rise and fall of he the abdomen and chest, your mind has something constant and consistent to tune into, if even for 17 seconds.
2. Remember Impermanence
Impermanence simply means everything will change. According to Wikipedia, it "expresses the Buddhist notion that all of conditioned existence, without exception, is in a constant state of flux."
The good news for you, and your chaotic situation, is this too shall pass. This noise, the negative people, the emotions, the uncomfortableness (whatever it is that you are feeling or experiencing) WILL change. It will move into a different state of being. So simply wait it out, with patience in your heart, knowing that this moment isn't going to last your entire life. At some point in your day, you will rest your head on your pillow and all this chaos will have faded away. Sometimes when assurance is there that "this" will not last, you will return back to a state of peace, safety and a place of love, you can surprisingly endure the situation with a little more ease.
3. Look for the Joy
While little Jonny's shrieking screams may have your back arched like an alley cat, try to see the joy that is surely within the situation. Especially when it comes to kids: Children have so much joy within their life. Watch the delight on a child's face when they discover something new, even if their squeals of delight might be overwhelming. Allow the energy of their laughter and joy to come to you. Remember that they are emitting and probably vibrating at a much higher level than you right now, so feed off of that and accept that energy with gratitude.
4. Make a Difference
Often when I'm in a crabby mood, I will ask myself "How can I make a difference in someone's life right now?", because I know this will surely bring me joy. A compliment? Valuable wisdom to share? Advice? One on One time with someone who craves it? There are many ways to make a small difference in someone's life — find one and reap the energetic karma that will surely come back to you when you do it.
5. Escape
Taking a block of time away from the chaos of a situation isn't selfish. Give yourself a time out by stepping outside, or going for a walk. It's amazing what fresh air and a quiet mind can do for the soul. If this isn't possible, head to the bathroom for 10 slow deep breaths or a round or two of EFT (Emotional Freedom Technique).
6. Surround Yourself with Soulfulness
Arm yourself with your best soulful ammunition. When I'm going to be spending a lot of time with people who aren't as spiritual or 'into my stuff', then I pack a few of my favourite things that keep me grounded or that bring my soul joy:
Angel cards
Gemstones
Ipod playlist of songs I can dance my heart out to
Meditations
Favourite book
Yoga mat for 30 mins of yin yoga
An old letter that brings a smile every time it is read
Favourite flavor of tea
Recorded meditations before going to sleep
Whatever makes your soul sing, pack it up, take it with you and use when you need it.
What are your favourite ways of finding your calm within the storm?