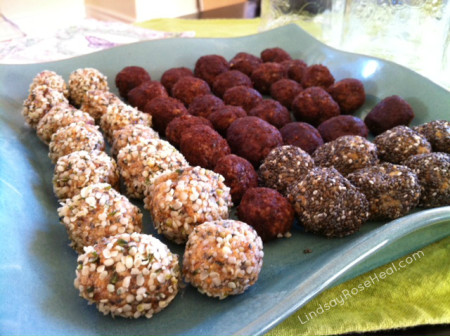 A great recipe for a slightly sweet but super healthy dessert! Full of protein these bitty balls pack a punch full of energy. Especially great to enjoy after a workout or exercise which will benefit the muscles.
1/2 C sesame seeds
1/2 C almond butter
1/4 C toasted pumpkin seeds
1/4 C toasted almonds
1-2 tsp honey
4-5   dates, pitted
Place 1/2 the sesame seeds in a small bowl and set aside for later.
In a food processor, combine all the ingredients and process to form a stiff paste or meal.
Form into tablespoon size balls and roll in the reserved seeds to coat.
Put in fridge until ready to serve. Store in an airtight container for up to 4 days.
*substitution suggestions*
replace almond butter with other nut butters if preferred
replace dates with figs or raisins
replace almonds/pumpkin seeds with other favourite nuts/seeds
alternate seeds to add: hemp, chia, flax, sunflower
roll balls in coconut, chia or hemp seeds, crushed almonds/peanuts, unsweetened cocoa powder and cinnamon
Makes 12-15 balls — Enjoy!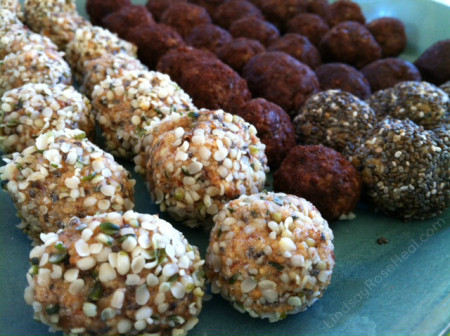 Balls shown here are rolled in hemp seeds, chia seeds and a combination of cocoa powder + cinnamon + cayenne pepper