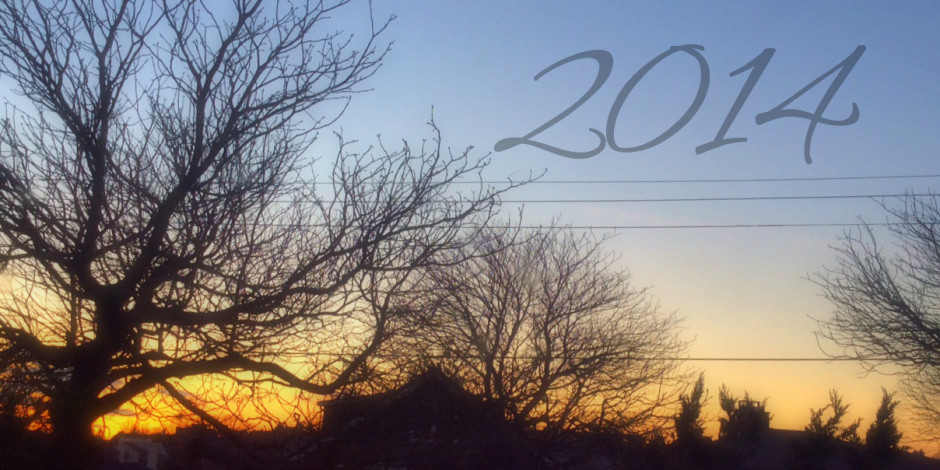 As I write this, I am looking out the window to the final setting sun of 2014. It is slowly moving down toward the horizon, a blur of yellows, oranges, pinks being overtaken by the darker blues of approaching nightfall.
I am inspired by the amazing Alexandra Franzen from a recent post she wrote about her year's highlights.
This motivated me to reflect back on my year to specifically find the good, the great and the magnificent moments that I experienced. In truth, the last half of 2014 was a rough one for me. It was a turbulent time of significant loss. Of loved ones who crossed over to become my guardian angels, and of a 6+ year relationship that finally ran its course to completion. At times it felt there were more tears than smiles, more isolating aloneness than companionship, more darkness than light.
I welcomed the challenge to reflect back and find those nourishing moments that had my heart splitting wide open for all the good reasons. I reminisced over my new and old 'favourites' that kept me smiling.
Here is my list of love and joy of 2014:
South France — warm, artistically quirky, delicious, luxurious, heart feeling at home.
Being with family for the celebration of love. My brother + sister-in-law tied the knot — It was a beautiful reminder of what love looks like.
Chance meetings and serendipitous crossing of paths multiple times with a beautiful soul who intrigues me. — He gave me hope, without even realizing it.

Teaching hundreds of beautiful souls this year – we laughed and played with energy. Not much better than that.
Deeper conversations with family and friends — they listened, I cried, they assured, I smiled, they gave me their devotion in the form of time. It was different than usual. It was beautiful.
My creative passions refueled – through pottery and painting.
Dalai Lama – in person. Inspirational, fulfilling, humbling, in awe.
Sandy-snouted-beach-loving dog — laughter, playfulness, unconditional love.
Hiking mountains with one of my best friends, Jen. We talked until our voices were raw. Now that's friendship.
Cake. Multiple times, just because. Enough said.
New friendships were formed. Old friendships were deepened. Friendships that no longer served us faded.

These things topped my favourite charts:
Music on Repeat: Letting Go (Theta) by Christopher Lloyd Clarke – instrumental and soul soothing
Songs: Here in My Place by Vince Vaccaro;
and (a very close second) Stuck On You by Meiko;
and (a very close third) Madness by Muse
Creative Artist: Elspeth McLean – vibrantly stunning paintings, and local west coaster.
Way to Release Stress: Bellyfit and Groove – moving my body was the best way to release my emotions
Dessert: Tiramisu from Fig Deli and most anything from Cakes Etc (in Victoria BC)
Inspiration Talk: Anita Moorjani – on almost dying and finding what unconditional love really means. Watch the video… it will move you.
Useless Video that made me laugh – Boots and Cats – it's catchy and makes me giggle.
and this one…. with the goats.
Show – Modern Family. I laugh out loud every episode.
Gemstone: Turquoise – for protection, peace, intuition, healing.
Random findings – Feathers – they were everywhere for me this year. So I started collecting them.
Spiritual Leader – Doreen Virtue – I really connected with angel and oracle cards.
Quotations: "What you seek is seeking you" – Rumi
"What would love choose?" – me
Despite the numerous hardships that came my way, I feel so very blessed to have many magnificent moments like these to make me smile and laugh.
What were some of your highlights this year?