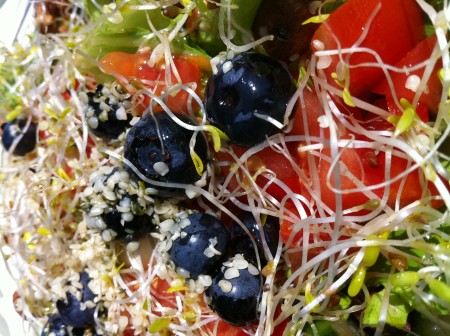 This hefty salad is a great way to pack more protein into your diet, especially if you do not eat a lot of meat.
Gone are the days of nutrition-less iceberg lettuce, 1 slice of tomato, and 1/2 a cut up mushroom. This salad is the Queen of all salads that will provide you with a heap of nutrition, keeping your energy levels soaring while you tackle your day. There'll be no afternoon grogginess or brain fog for you!
It's even good enough to have for dinner, without anything else.
Now this is THE ultimate salad. Do you dare to try it?
What you need:
Spinach – 1 handful
Red Leaf Lettuce (or a dark green variety) – 1 handful
Alfalfa sprouts – 1 handful or more
Organic Roasted Almonds – 1/2 handful
Organic Roasted Pumpkin Seeds – 1/2 handful
1 tbsp Sesame Seeds
2 tbsp Hemp Seeds / Hemp Hearts
1/2 tbsp ground flax seed
Dried Cranberries – 1/2 handful
Cucumber – 1-2 inches worth
Zucchini – 1 inch worth
1 Carrot, shredded or chopped
1/2 cup Chickpeas/Garbanzo Beans
1/2 of an Apple, diced or Blueberries or Strawberries
1/2-whole Avocado, diced
Dressing:
1 part *Flax or Olive or Grape Seed oil to 1/2 part *Apple Cider Vinegar or Balsamic Vinegar
Squeeze of fresh lemon
(*healthier option)
Avoid any commercially prepared dressings, as they have white sugar and preservatives in them.
How-To
Combine all ingredients together in a bowl and enjoy!