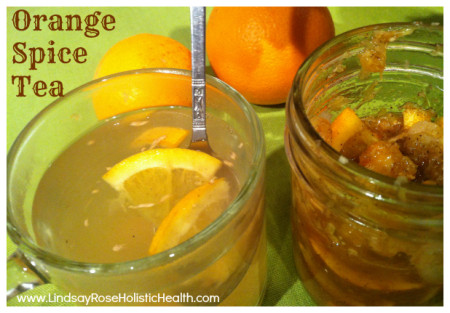 Sometimes all you need to feel warm and cozy is a nice cup (or pot) of tea!
It's always an added bonus when what you are nourishing your mind and spirit with, is also nourishing your body.
Here are the health benefits of this tea:
Orange
Antioxidant
Lowers blood pressure
Boosts immune system (loaded with Vitamin C)
Anti-inflammation
Anti-tumor properties
Prevents kidney stones
High in fiber
Prevents ulcers
Honey
    Antibacterial –  prohibits the growth of certain bacteria.
    Antioxident
    Eliminates free radicals in the body.
    Part of the nutrient supply for growth of new tissue.
    It destroys biologically destructive chemical agents which have been linked to many diseases.
Ginger
    Antiviral and Antibacterial
    Eliminates toxins
    Reduces inflammation
    Nausea relief
    Stimulates circulation
Cinnamon
Anti Microbial
Blood Sugar Regulator
Source of fibre and calcium
Boosts cognitive function and brain activity
This 'Tea in a Jar' makes a fabulous (and inexpensive) gift as well.
Add a little rafia or ribbon around the jar with a note saying "Add 1-2 Tbsp to Water. Sip. Enjoy." for the perfect touch!
Tea Time!
What you need:
1 Orange
3-4 tbsp honey
1 inch chunk of fresh ginger (or 1/4 tsp powder)
1/2 tsp Cinnamon
1/4 tsp nutmeg (less if freshly grated)
1/4 tsp cloves or all spice
1 tsp organic pure vanilla extract
250 ml Mason Jar + lid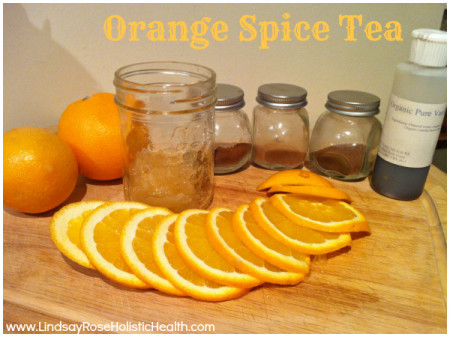 2. Wash and slice up orange to desired size. (I like them in 'tidbit' size… 1 slice cut in quarters)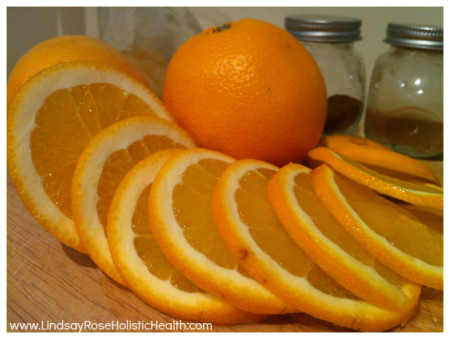 3. Add Orange slices to jar and mix with honey. Squish slices with spoon to allow juice to come out.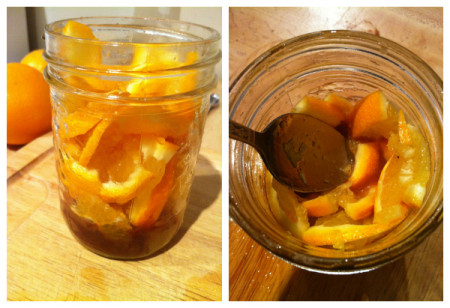 4. Add spices and grate ginger into jar. Continue to mix.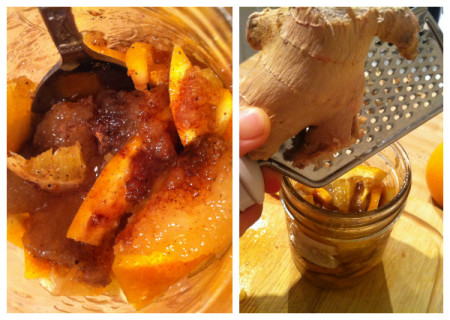 5. Add 1-2 tbsp of Orange Spice Tea into boiled water.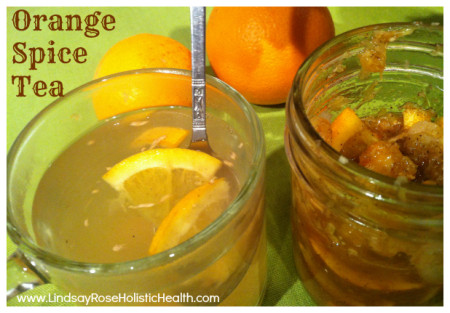 6. Take a long deep breath, relax and savor each sip.
Store covered in the fridge for a couple of weeks.
The flavors will intensify the longer it sits.
Keep adding to the jar as it gets low.
Enjoy!