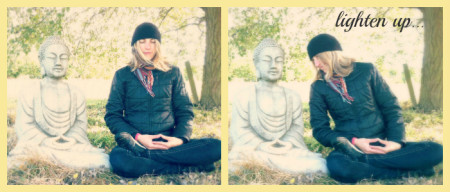 Mettā simply means 'Loving Kindness'
Wikipedia defines it as:
loving-kindness, friendliness, benevolence, amity,  good will, kindness, close mental union (on same mental wavelength), and active interest in others. This is love without clinging (upādāna).
In meditation, I find using the 'Metta' or Loving Kindness approach to be the easiest. It's simply sending loving thoughts to yourself, others and our world. What I love most about this: I get to 'think' while I meditate. I don't have to have a crystal clear mind. I can focus my often wandering brain on words that warm my heart. I also know it is sending out a positive vibration of energy to others.
Here is my favourite (and one of the most traditional) metta meditations:
May I be safe
May I be happy
May I be well
May I be peaceful and at ease
A variation that is often set to a song will include:
May I be filled with loving kindness
May I be well
May I be peaceful and at ease
May I be happy
After saying it through as 'May I Be…' you can move on to 'May you be….' and then 'May we be…' — The music below is a great example of this:
If you are someone who struggles with clearing your mind during meditation, I encourage you to embrace Metta Meditation. Start with simply saying it through once for yourself, once for someone else and once for both of you.
You can also just say it to yourself or others over and over and over again, until you feel that subtle shift of energy happening in your heart.