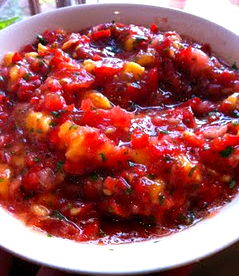 It's no secret that I love to be in the kitchen creating healthy 'clean' meals for my family. There are only a few opportunities where my lovely 'sous chef' Eric will take the lead and make a fabulous dish. This is one of his amazingly delicious recipes: Mango Salsa.
The best part of this recipe is it is very versatile and you can completely alter it to your own preferences. Add in or take away any ingredients that suit your fancy, or you could do without.
Eric's Mango Salsa
3 medium Tomatoes
3/4 or a whole Red Pepper
1/4 Onion
Fresh Cilantro – a handful (about 8 stems)
Hot Pepper – to taste (or sub in chili powder or cayenne spice)
1 tsp Apple Cider Vinegar (or vinegar of choice)
Lemon Juice – 1/4 to 1/2 of a fresh lemon's worth
1/8 tsp of salt (or to taste)
1 Mango
Combine all ingredients into food processor, or cut up by hand.
If you use a blender, the salsa will be less chunky and more smooth.
If there is too much liquid in the end, just drain some off to your preference.
Have fun with this recipe and tweek it to your own desires. We start on the small side of the measurements and keep adding more to get the desired taste, especially with the spices, lemon, vinegar and salt.
Here are some ideas on where you can use this salsa:
– Burritos
– Tacos
– Nachos or chips
– On eggs or in omelettes
– Quiche
– Pasta (instead of tomato sauce)
– On Rice
– On Baked Potatoes
– On Chicken
– In a wrap or sandwich
– Salad Dressing – add balsamic & oil to it
I would love love love to hear how you put your own sweet twist on Eric's salsa. Share your recipes and how you use it below in the comments!