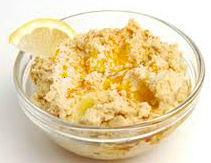 This tasty little bowl of healthy goodness is a great addition to any dinner, or as a snack between meals.
The lemon and garlic are great for the cold and flu season. Chick Peas pack a punch when it comes to fiber, protein, iron and manganese. So don't be afraid to splurge when dipping your tortilla chip into the bowl, heap it on baby! Heap it on!
What you need:
1 can Chickpeas (Garbanzo Beans)
1/2 Fresh Squeezed Lemon
1/4 tsp Salt
1-2 cloves Garlic (or more if you are daring)
1/4 cup Olive Oil
1/2-1 tbsp Tahini
How to:
Mix it all up in a blender or food processor and serve with veggies, pita bread or organic corn tortilla chips! Can also be used as a spread inside a sandwich.
(You might have to add in a wee bit of water to get your desired consistency.)
Feel free to play with the lemon, tahini, salt and garlic measurements for your own preference.
Alternatives:
My Greek-Food-Making friend Kristina tells me that anything more in Hummus is Hummus no more…. but these little extras give it a new twist.
Add in any of these:
1/2 Red, Orange or Yellow Pepper
Hot Pepper or Cayenne pepper
Fresh Cilantro
Fresh Basil
Cumin