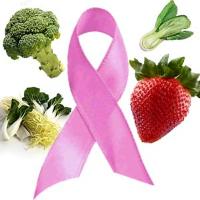 If there is one word that is more toxic than any other swear word, I'd say it's the 'C' word — CANCER.
I think all of us has been affected by this disease. Some have or had these abnormal cells within their body, others have family and friends who have gone through it.
To me, it's no surprise that the number of reported cases of diseases such as cancer is on the rise. We live in a toxic and chemical society. Our households are full of chemicals (the couches we sit on, beds we sleep in, supplies we clean with….). Our food is full of toxins and additives that are made in a lab. The amount of Genetically Modified Foods is greatly increasing in North America. Most of the foods people eat are highly processed, which means they are no longer getting the nutrients the body needs to be strong and healthy. A depleted immune system means the body isn't strong enough to fight back, and so it succumbs to disease. This is just the physical aspect. The thoughts we think, our outlook in life and beliefs in which we live by all contribute to our health and well being.
Being a holistic health therapist, I have clients who use my services to build their immune systems and promote relaxation. Upon recent research into treatment options available to people diagnosed with cancer, I discovered an amazing site called InspireHealth.ca, which is an Integrated Cancer Care center in British Columbia.
Being a holistic health therapist, I truly believe and support all aspects and levels of well-being especially in the treatment and approach to illness and disease, such as cancer. I believe that conventional methods are not the only choice that can be made, but can be combined and even enhanced by alternative and holistic health methods.
The chart below is a great view of all the options available, that can compliment each other in the treatment of cancer and other illness and disease. I have highlighted by a small heart, the options that I use within my holistic health practice with clients, both for preventative and supportive health measures.
I believe sooooo strongly about preventing disease. So if you are reading this article and do not have cancer or another disease, it is just as important for you to take the steps below to ensure you stay healthy on all levels. Reading this and saying 'this makes sense' is not enough. You have to take action. You have to choose to live a healthy preventative life, because there are so many factors working against us in our modern day society. It is up to you, and you alone to choose health and wellness, so start somewhere, anywhere, on the chart below and start making a difference in your life! I believe in you!
From Inspire Health's website:
    "All aspects of supporting mind, body, spirit and immune system (e.g., exercise, nutrition, stress reduction, etc.) are interrelated and each contributes to the benefit provided by the others in a synergistic way. By engaging in the many ways we can support mind, body and spirit, we create solid foundations for health and recovery and optimize our body's healing potential. An optimal integrated cancer care program incorporates all of these foundations, built one upon the other, foundation upon foundation, as illustrated in the diagram below."