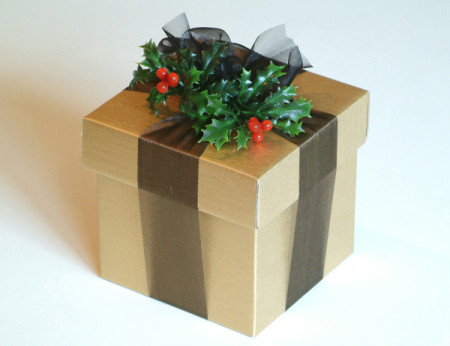 Holidays and special occasions like birthdays can be a stressful time for many, especially the gift-buyer.
We are constantly challenging ourselves with the deep down feelings of "not doing enough", "not being enough", "not giving enough". Year after year, we over do it. We feel we need to go over the top to please others. When it comes to gift giving, stress is created when we have trouble finding the 'perfect' gift for our friends and family. On top of that, we have the financial stress of being able to find gifts that suit our budget yet are still "enough" to give.
Many of us are trying to go back to the roots of special occasions being a sentimental and soul nourishing time. For this reason, I have created a list of Body, Mind & Soul nourishing gifts for those of you who want to give others the gift of health and well-being this year.
1. Book of Inspiring Quotations or Stories
Nothing opens the heart more than being inspired by words and ideas. I recommend authors Louise L. Hay and Kobi Yamada.
Quotation books are available at any local book store or online:
Louise L. Hay via HayHouse.com
Kobi Yamada via Live-Inspired.com
Estimated Spending: $10-$30
2. Relaxing Eye Pillow
The people in your life deserve to relax, renew and rejuvenate with a lavender eye pillow. Place on the eyes to relieve headaches, sinus pressure and under eye circles. Warm up and place on sore muscles to release tension. Think of it as your own holistic health practitioner all sewn up in in a small, soothing package! You just might want to buy an extra one for yourself!
Available in a variety of colours and designs.
$15.00, free shipping in Canada.
Buy on the Lindsay Rose Holistic Health 'Shop' page.
Estimated spending: $15-$20
3. Journal
Give the gift of self-expression. Journals are a beautiful way to allow the mind and spirit to flow freely. Giving a journal is a gift of personal nature yet allows you the freedom of not going 'wrong' with what you select. For additional personalization write your own message of support, encouragement or inspiration inside.
Not sure if journaling will be difficult for the person you are giving this to, there are 'guided journals' on the market that will ask inspiring questions and leave spaces to answer.
For some inspiration visit the live-inspired.com website.
Estimated spending: $10-$35
4. Soy or Beeswax Candles
Candles are a popular gift to give at Christmas, especially to those people you aren't quite sure what they want. Did you know that traditional candles can contain toxins and chemicals so I recommend you opt for a more natural choice: Soy or Beeswax candles. They usually sit at a higher price point than regular candles, but this is why receiving this gift if is a treat! It is something the person will not likely splurge on for themselves, but will appreciate receiving it it!
Candles are also a great addition to gift baskets.
Estimated spending: $5-$50
5. Card or Stationary Set
Looking for a sentimental gift. Give a blank card or stationary set. Think of it as a gift you give, that they are able to give (all year round!). There is something so beautiful and warming about sending thank you cards or 'thinking of you' letters. For a sentimentalist in your life, this is really the perfect gift!
Usually available in gift shops or book stores.
Estimated cost: $5-$20
6. Tea Set
You can't go wrong giving tea to someone who loves to be comfy and warm, who likes to entertain and hold dinner parties or who is interested in nourishing the body with healthy antioxidants through green & white tea. Go beyond the 'box of tea in a gift bag', and create a whole basket full of tea supplies.
Some mix & match ideas:
– Loose leaf teas
– Variety of tea flavours: Spice, Fruity, Mint, Flowery…
– Variety of teas: Herbal, Green, White, Rooibos, Oolong, Chai…
– Tea pot
– Kettle
– Tea cups
– Travel mug
– Gift Certificate to local tea house
I recommend Silk Road Teas: www.SilkRoadTea.com
Estimated spending: $5-$75
7. Class or Workshop Registration
A gift that keeps on giving multiple times. Give a gift certificate for a local class that will help your loved one be healthier. There are a variety of options that will grow the body, mind and spirit. Here are some ideas…
Body: Yoga, Pilates, Groove, Dance, 5 Rhythms, Zumba, Massage workshop…
Mind: Meditation class, workshop or retreat, Art class, Writing workshop, Health conference, Wellness retreats
Spirit: Music concert, Spiritual concert such as Snatam Kaur, Reiki class…
Check out my workshops page for additional ideas.
Estimated Spending: $5-$300
8. Experiences Together
There is nothing more personal and beautiful than spending time together. For many, material gifts don't always resonate or feel authentic so I suggest giving the gift of an experience together.
Here are some ideas to get you started:
Afternoon tea, beach picnic, hiking, visit an outdoor market, photo shoot, dance class, art gallery or museum visit, wine or beer tasting, baking or cooking class, volunteer work, home-cooked dinner finished with a dessert at a restaurant, road trip to anywhere, meditation class, festivals, music concert, spa services, retreats…. check your local events pages for more ideas.
A fun idea that allows this gift to keep giving all year round is to create a coupon book with 1 experience every month. This way, you are continually connecting with your friend while the budget of the gift gets expanded over the entire year. So if you are short on cash around the holidays, start your 'Year Long Experiences' with Tea for 2, which will fall in around $5-$10 mark. You get to determine your own budget with this gift, leaving the financial stress out of it! Use the same experience every month (such as a tea date), or choose a variety of activities. Either way, what is most important is the time spent together.
This gift allows us to commit to spending time with each other. We always have good intentions throughout the year to connect, but sometimes 'life just gets in the way'. Set a specific day (first Wednesday of the month) to make this happen.
For most people, time, effort and energy are what matters most when it comes to receiving gifts. Stick to what really matters in life – connection with those we care about.
Estimated spending: Free-$500
What are some of your favourite 'Healthy Gifts' to give or receive? Share with our community in the comments below!