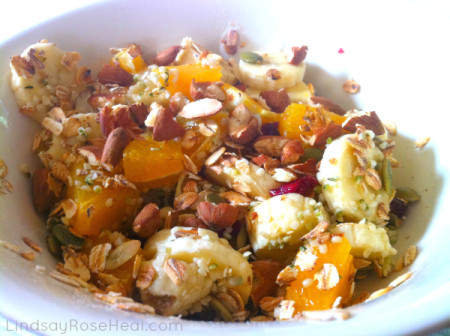 As you probably already know, I am really not a fan of anything processed. That especially goes for breakfast. This meal starts your entire day off, so you have a choice:
Nourish your body and revitalize your energy or
Zap your energy, causing yourself to feel fatigued by choosing something processed.

Cold cereals (yup, even the "Healthy" ones) are processed & full of sugar. Ready to go packets of Oatmeal — a HUGE no-no (have you seen the added ingredients in them — even chemicals!)…. Don't even get me started on toast or bagels! I can already hear the excuses: "Yea, but I don't have time in the morning to make something wholesome." — Really? That's your excuse? You and I both know your health and well being are worth 4 extra minutes in the morning. Here is a quick, easy and wholesome breakfast that is packed full of protein and yummy goodness to get your day started on the right foot:
1 Banana – sliced
1 Orange – sliced
1 handful Cranberries (unsweetened)
1 handful Organic Roasted Pumpkin Seeds
1 handful Organic Roasted Almonds, chopped
1 handful Organic Oats, Roasted
1-2 tbsp Hemp seeds
few sprinkles of Cinnamon
1. Roast Almonds & Pumpkin seeds on a cookie sheet in the oven for 5-10 minutes at 300F – keep a close eye & remove when almost browned. Set aside to cool
2. Roast Oats in fry pan on low-medium heat for 5-10 minutes, keep a very close eye so it doesn't burn. Set aside to cool.
3. Combine fruit, hemp seeds & cinnamon together in a bowl.
4. Add almonds, pumpkin seeds and oats.
5. Enjoy with a dollop of plain, organic yogurt. (The added fruit kind is FULL of extra no-nos.), or with Almond milk, or on its own.