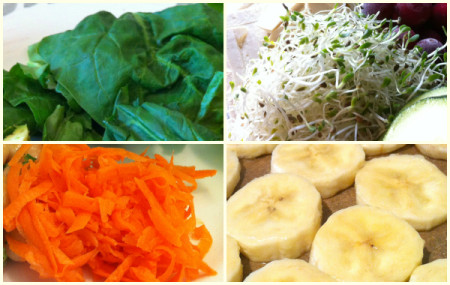 Being bunged up is a crappy feeling. Not only does it feel uncomfortable but it can be detrimental to your health. Think about all the toxic waste your body needs to release, just sitting up there in your intestines. Think: smelly gas, bloating, low back pain, lack of energy, acne…. it isn't a pretty picture.
First and foremost, my absolute top recommendation is to DRINK WATER!!
Think of a water slide: If there isn't any water flowin' down it, you're just going to stick to it and not move (or it will be a very slow & painful ride to the bottom!)
Here are some great foods that promote healthy flow & treat constipation:
Foods that Lubricate the Intestines:
Spinach
Banana
Sesame Seed / Oil
Honey
Pear
Prune
Peach
Apple
Apricot
Walnut
Pine Nut
Almond
Alfalfa Sprouts
Carrot
Cauliflower
Beet
Okra
Seaweed
Flaxseed oil

Foods that Promote Bowl Movement:
Cabbage
Papaya
Peas
Black Sesame Seed
Coconut
Sweet Potato
Asparagus
Fig
Bran from Oats or Brown Rice
Castor Oil
Ground flaxseed (your body won't break down the whole seeds so be sure they are ground)

Demulcent Herbs (to promote a 'slippery coating')
Licorice Root (not to use w/high blood pressure or if pregnant)
Psyllium Seed
Fenugreek Seed
Flax Seed
Marshmallow Root

Laxative Herbs (to make you go quicker)
Dandelion Root
Rhubarb Root
Barberry Bark
Cascara Bark

Flora-Enhancing Foods (the good kind of bacteria you want in your intestines!)
Miso
Acidophilus
Kefir
Organic Yogurt
Chlorophyll-Rich foods like: wheat-grass, dark greens, micro-algae, wild blue-green & spirulina, alfalfa greens
Enjoying the above foods on a regular basis will help PREVENT constipation in the first place.
Here is a delicious Recipe for the Ulitimate Salad.
It includes the above foods: Dark Greens (Spinach), Carrots, Alfalfa Sprouts, Sesame Seeds, Apple and Flax Seed / Oil.
If you are already constipated, then try giving yourself an Abdomen Massage to get things moving.