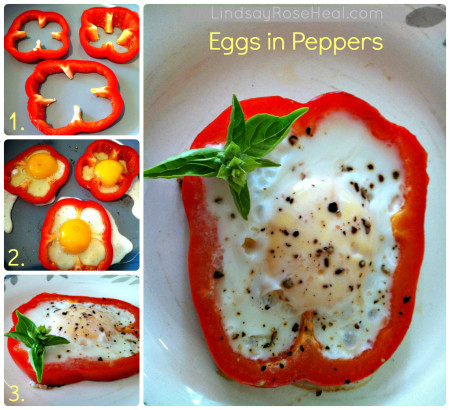 Serve your eggs in this creative way: Inside a slice of pepper!
What you need:
Eggs
Peppers, sliced to about 1/2 to 1 inch thick
Salt, Pepper & Herbs to taste
Additional goodies like: feta cheese, diced tomatoes, diced zucchini etc
How to:
Slice the peppers to about 1/2″ to 1″ thick. Place into medium-heated frying pan for 1-2 mintues then flip over.
Crack 1 egg into each pepper slice. You may need to hold the pepper down with your fingers until the bottom of the egg stiffens up (to avoid spilling out)
Add any additional veggies into pepper & finish with seasonings
Put a lid on the pan and let cook until desired yolk consistency is reached (depending on frying pan, you may wish to lower the temperature and cook longer to avoid burning the bottoms)
Garnish with a fresh herb, serve & enjoy!