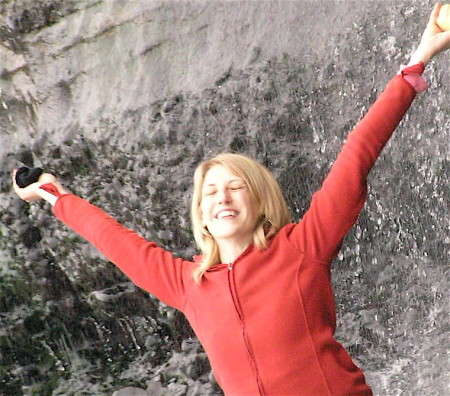 I had a triumphant day today! I received over $20 back from my bank….. all because I asked for it. As a bonus, I also improved my health, you'll see why by the end of this post.
Have you ever noticed that something just wasn't right but were too scared to make a move and correct it? So it eats away at you. It keeps creeping into your mind over and over again and then you feel bad that you haven't acted on it sooner?
That happened to me a month ago and for the past 29 days, I have stressed, worried, procrastinated, pushed it aside, and worried some more. I have been thinking of it in the shower, as I'm falling asleep, during a session with a client, while driving, cooking and baking. This 'thing' has been on my mind for 29 loooong days but I was just too damn scared to call and see if there was an easy solution to my concern. I was scared to even ask in case they said 'No'.
So today, I put 'Call My Bank' on my to-do list and…. well… I actually did it!
Not only did I do it, but I got over $20 back from them, which I consider a pretty damn good success!
Here was the deal:
I had noticed that for 3 months, we were getting charged a higher monthly fee for one of our bank accounts than we remembered agreeing to.
I do believe in taking responsibility and not playing the "It's someone else's fault" card, and this was true for this situation as well:
I wasn't careful in reading the notification they put in my online banking inbox that said they were transitioning our account to the higher fee. I very likely didn't even read it.
I also wasn't diligent on checking all the transactions that were occurring in that said account for the last few months. Meaning, I didn't notice that for 3 months the $10.95 charge was even occurring. No excuses. I just did not pay attention to the numbers coming in and going out.
And, when I finally did notice it……
I procrastinated.
I felt slightly ashamed at not being financially responsible and aware of this.
I felt disappointed in myself for allowing this 'over-charging' to happen for that many months.
I felt stuck and frozen and scared to even call them to see if there was a chance I could get reimbursed for that extra charge and to change our month fee option down to the $4 one we have on the other account.
My self esteem took a beating from myself, for not feeling good enough or not doing enough toward the situation.
I felt stressed. Simply put. I felt stressed.
So knowing I had only another day or so before the monthly fee would be charged again, I picked up the phone and made the call.
The bank representative I spoke to was great.
His name was Jim and I enjoyed talking to him.
I was lucky to have someone so understanding of our situation that he cheerfully said "Why don't I just go ahead and credit your account the difference between the two monthly fees ($20 and $4), that have been over charged on your account for the past few months. Would this resolve your displeasure with our lack of communication to you on this matter?"
My response: "Why yes Jim….. Yes, this would make the situation a whole lot better for us. I truly appreciate this gesture."
…. and within 4 minutes my stress was over.
I waited 29 days (that's 696 hours or 41,760 minutes) to make a 4 minute call that not only ended my worry, feelings of embarrassment and guilt, but actually gave me $20 worth of abundance. What a lesson I just learned.
If there is something I want, ask for it.
The answer might be "No", and I'll still be in the exact same boat I'm in if I don't ask.
But the answer might be Yes, ( or a Yes with a $20 bonus!)
A old friend used to say to me "Don't worry your pretty little head".
and I'm going to expand on that. "Don't worry your pretty little head and face your fears"
For every worry you have, you are creating stress.
Stress leads to illness and can also lead to disease.
So for the health of it, face your fears and ask for what you want.
Just go for it! I believe in you!