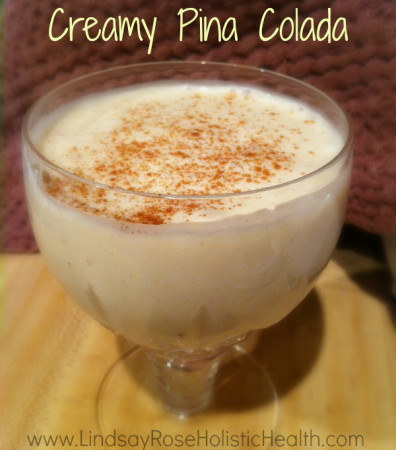 This is one of the tastiest and easiest drinks I have ever made!
The creaminess is almost addicting.
This frothy and creamy pina colada will have you wishing you were relaxing on a tropical beach.
Just close your eyes, take a long sip and you can be there in your mind.
What you need:
1 Banana (preferably frozen)
1 C Pineapple
3/4 C Coconut Milk
1 1/2 tsp pure Vanilla
1/2 tsp cinnamon + more to sprinkle on top
How to make it:
Add banana & pineapple in blender, blending until creamy
Add rest of ingredients and blend until well mixed
Pour into glass and sprinkle cinnamon on top
Chill before servingMakes 2 large cups
How to keep it wholesome:
Pineapple – avoid pineapple in cans that are sweetened with syrup or sugar.
Opt for a fresh pineapple.
If using from a can, only select ones in their own juice (with no other ingredients listed on label other than citric acid)
Coconut Milk – check the label for additives. Best option is Organic Coconut Milk.
Mine only has coconut milk, water and guar gum on the label.
Vanilla – most vanilla extracts are artificial. Stop right there. Anything that is artificial is not good for your body. Period.
Pay more for the 'Pure Vanilla'. It's stronger in flavor anyway, so you'll end up using less per recipe. Worth the money.