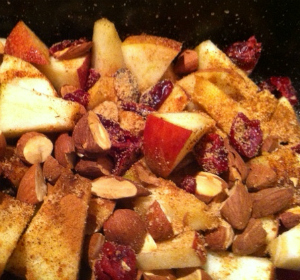 This wholesome (and quick to make) bake is a great alternative to the traditional apple crumble. Think of it as a new modern day twist, that is bursting with different flavours and textures.
If you have apples that have lost their 'crispiness' this a quick & delicious way to use them up!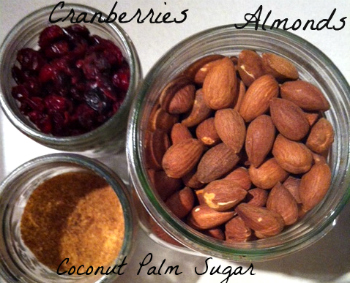 1 Apple, diced
1/4 C Roasted Almonds, chopped
1/4 C Dried Cranberries
1 tsp Coconut Palm Sugar*
1/4 tsp pure vanilla
1/8 tsp cinnamon
1/8 tsp nutmeg, cloves or all spice
Mix all ingredients into a pan.
Bake at 350 for 8 minutes.
(makes 2 portions)
*please please please do not use brown or white sugar for this as a substitution. If you need a sub, go for the healthier option of real maple syrup or honey.
What other little extras could you include in this dish to make it your own delicious treat?