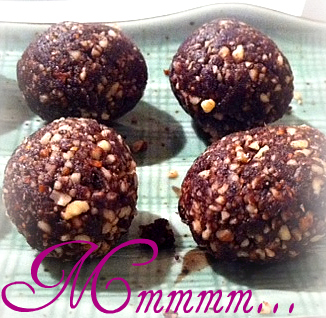 Welcome guest blogger and Namaste Inspired Athletics owner Liz Zdunich to our community! She posted this delicious recipe on her blog and offered to share it with all of you too! I made these yummy treats and they were oh-la-la-licious! A perfect chocolate fix, but without the processed sugar and other laboratory additives. These will be my next go-to potluck item: quick, easy & healthy to share with the people I love.
"On my mission to find soy-free, dairy-free deliciousness, I came across some nut truffles. After some modifications (I like to think, improvements:) Here they are! – Liz Zudnich
Almond Cocoa Bliss Truffles
Preheat the oven to 300 degrees. Spread out on a baking sheet and bake until lightly golden brown:
1/2 cup unsweetened shredded coconut
Spread out evenly on a flat plate and place to the side to cool.
Put in the food processor and pulse until finely ground:
1 cup raw unsalted Almonds
2/3 cup pitted Dates or Figs
3 Tbsp Unsweetened Cocoa Powder
If needed, add in 1-3 Tbsp water until sticky.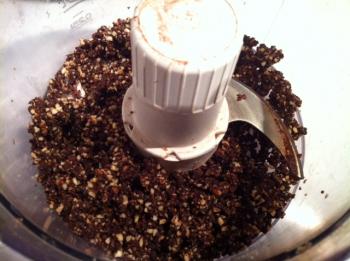 Form balls about 1 Tbsp of mixture in size and roll in the toasted coconut until completely coated. If not rolling in coconut, water may not need to be added.
Place in the fridge to set for as long as you can hold off. Savour the deliciousness!"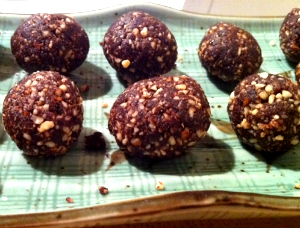 ---
Liz is a yogini, teacher and coach, GROOVE facilitator and ambassador, nutrition and wellness specialist, blogger, business owner/operator and above all, a wife and mumma of 2. For more inspiration follow her blog, "A Daily Dose of Om".