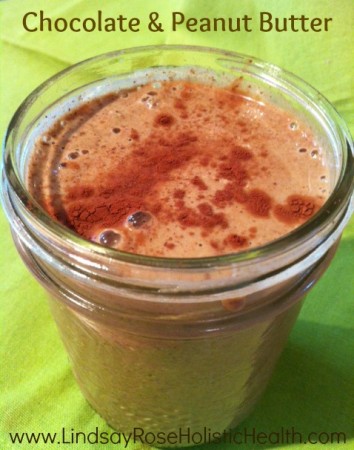 Who doesn't love chocolate? Especially when you can enjoy it in a guilt free way.
Recently some friends were giving me suggestions on how to increase my protein intake and Liz of Namaste Inspired Athletics pointed out peanut butter. After rhyming off all the different ways to add it to snacks, she said she will throw a few tablespoons into her morning smoothie.
So my creative health food wheels started turning and I thought of all the wonderful combos that peanut butter go with: Banana & Chocolate amongst my favourite.
So here is my creation of a Chocolate, Peanut Butter & Banana smoothie. And it wouldn't be right if I didn't try to healthify it even further by adding in chai seeds and spinach (trust me, you won't even notice the spinach). Enjoy!
1 Banana
3 tbsp Organic Peanut Butter
1 tbsp ground chai seeds
1 tbsp ground cocao nibs
1 tbsp cocoa powder (unsweetened)
1 tbsp honey
1 handful of spinach
1-2 cups water (depends on desired thickness)
Optional: Add in 1/4 cup ground oatmeal for extra goodness and energy.
(I grind all my things up in a spice/coffee grinder)
Blend all this goodness in a blender and enjoy your chocolate shake to the fullest!
(and Yes! this is a healthy breakfast treat, much better than additive laced and processed cold cereals or toast.)