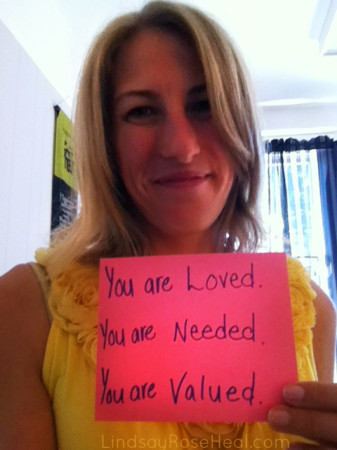 1. Passwords
Change your most commonly used passwords to something inspiring like:
IamBeautiful. PeaceLoveJoy. Abund@nce. IamHealthy.
If you are typing it out multiple times a day it will surely sink in deep.
2. Sticky Notes
Fill your walls, fridge, doors and house with little tiny notes for gentle reminders of love and worthiness.
My favorites: "I am worthy." "You are so freakin' beautiful Lindsay." "You've got this!"
3. Write on your mirrors and windows with a dry erase marker
These markers easily wipe off so your mantra or affirmations can continually change as you spiritually grow. Share the love with others and leave positive messages for your spouse or kids to see when they look in the mirror.
Try this: "I believe in you!"
4. Bookmarks
I still love the feel of an old fashion book in my hand so I will often jot down an affirmation on a piece our paper and therefore see it everyday I open my book and place my bookmark in and out.
My suggestion: "You are full of wisdom." "Prosperity and abundance are yours."
5. Random Notes
Think: in pockets, purses, backpacks, containers, drawers, glove boxes….
Wouldn't it be nice to randomly see this in your pocket: "You are loved and accepted just as you are."
6. Mala Beads
These traditional prayer beads can be kept in your bedside drawer for a night time 108 affirmation round. Or wear them out as jewelry for an 'on the go' meditation break.
Keep it simple: "I am loved." — 108 times… you'll definitely start believing it!
7. Inspiring computer screen or phone backdrop.
While Mittens the cat is adorable to look at, swap out your backdrop for a more inspiring message.
This was mine for many months: