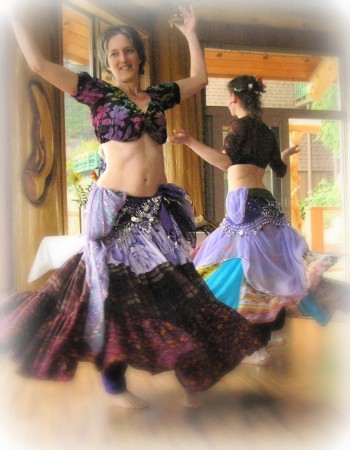 There is one thing you strive for in your life: To feel fabulous!
* To have a body that is pain free and allows you to live life to the fullest without limitations.
* To have a calm and peaceful mind that allows you to enjoy each moment of your day.
* To have an unlimited amount of energy so you can follow the passion in your heart.
So why is it when you are taking care of your health, you still aren't feeling 100% fabulous?
It might be because you are only working 1 or 2 elements of your entire health and well being, and not all 6 of them.
What do I mean? Humans are extraordinary. There are so many levels to ourselves that I wonder if we even have them all figured out yet. So to feel 100% fabulous, you have to address all levels and ensure they are all in balance.
As a holistic health practitioner, I believe in 'Whole Health for your Whole Life'. This means when it comes to a person, working on all three levels of Body, Mind and Spirit is essential in order to feel fabulous. I have developed a model called the '6 Foundations of Health' which include these elements: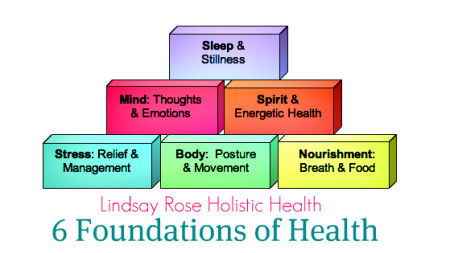 1. Stress and Stress Management
2. Body: Movement & Activity
3. Nourishment: Water, Breathing, Food and Toxins
4. Mind: Positive Thoughts & Beliefs, Expression of Emotion
5. Spiritual & Energetic Health
6. Sleep & Stillness
Here are 6 health tips to add into your daily routine that will make you feel absolutely fabulous and balanced!
1. Deep Breathe
Take time in your day to reduce stress and nourish your body with oxygen. Take in 10 long, slow deep breaths and focus on the movement of your body as you breathe. (Try one right now!). Do this every day.
2. Sway & Swoop
In the morning after waking up, do some gentle swaying motions from side to side. Move your torso, hips, neck, arms and knees back and forth in a slow rhythm to warm up the muscles. Slowly start swooping toward the ground in a forward bend, focusing on each vertebrae of your spine as you bend forward. Take in slow deep breathes as you go, pausing and breathing any time you feel tightness or tension. Slowly reverse and start standing back up, imagining each vertebrae stacking on top of each other until you are upright.
3. Guzzle the Greens
To nourish your body with wholesome goodness, go for a Greens+ drink by the company Genuine Health. This superfood will prevent the cold and flu by boosting your immune system, contains antioxidents which PREVENT illness and diseases such as cancer, and will aid digestion issues like gas, bloating and constipation through it's rich probiotics. All this goodness in one cup. That's pretty simple, eh?
4. Attitude of Gratitude
The mind is a powerful part of our health. It is said that what you think can manifest into your life and reality. So think positive. Having gratitude for what you have in your life is essential. Oprah contributes her overall happiness to writing in a Gratitude journal every day. Think of 5 things you have gratitude for each and every day. You might want to do this both when you wake up in the morning before your feet even hit the floor, and when you lay down to sleep at night. Have gratitude because what you are thankful for will start expanding and life will give you more. One of my favourite quotes: "If you're not happy with what you have, how could you be happier with more?"
5. Bounce!
Need a quick energy boost? Bounce for 1 minute. Bouncing helps on many levels. From a physical level it moves fluids through our lymphatic system (our immune system), which prevents us from getting sick. On a an energetic level, we can often pick up negative energy from other people, situations and the environment and bouncing is a way to knock it out of our energy field.
6. Sleep in a Pitch Black Room
You already know the importance of quality sleep. So how can you ensure you are getting the best sleep possible? Block out ALL light in your bedroom. I'm talking about black-out curtains, removing ALL electronics from the room, turning the clock face down so it doesn't shine (or better yet, get a battery operated non-glowing clock!). Ensure there is not a peep of light filtering in. Why? Melatonin is an essential hormone that gets produced when we are about to fall asleep. Light can interrupt the production of this hormone, which means you may not be going into the deep 'healthy' sleep you need. Research has shown that a lack of melatonin has been linked to cancer and other diseases. So set yourself up for the best possible sleep: Go pitch black.
By incorporating these 6 simple and easy tips into your daily life, you'll be feeling fab-u-lous in no time! You truly deserve to live a beautiful, healthy life, so make the choice to make it happen!